News
Phil has been having fun sculpting a cute new Chibi Gear for our 2015 Xmas Gift. His latest master piece is a Chibi Kodiak with Hawaiian Hang Loose Hand Sign and painted up in the Northern Blue Angels regimental color scheme. The attached image includes Chibi Kodiak front and back views, resin parts photo and with the Chibi Hunter and Jager for scale. The miniature stands 50mm tall by 80mm wide when assembled.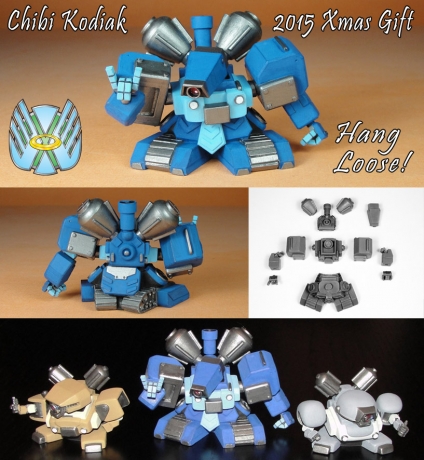 We announced earlier today that Dream Pod 9 was kicking off the Holiday Season on the DP9 Online Store with our Thanksgiving thru Black Friday Weekend Promotion (Nov. 26th to Monday morning Nov. 30th). We'll be giving double Pod Reward Points, plus all orders over $100 will receive our new 2015 Xmas Gift mini of the Chibi Kodiak a $24.99 value free, limit one free xmas gift per customer.
Also for the Holiday Season we are making available again for purchase the Chibi Hunter and Chibi Jager resin miniatures, Xmas 2013 Command Jager and our limited edition Gen Con miniatures. Plus the Heavy Gear Fleet Scale, Jovian Chronicles, and Gear Krieg miniatures will be available from now until the morning of January 4th, 2016. Here is a link to the Dream Pod 9 Online Store for all interested.
Submitted by

Robert Dubois

on Thu, 11/26/2015 - 6:53pm
Heavy Gear Blitz New Edition News and Downloads
Click here for news on the new edition of Heavy Gear Blitz which is currently under development. With Alpha/Beta playtest downloads of the new rules and armylists. Get involved in the playtesting and help us make the new edition the best miniature game out there!
Visit our Facebook page for
more news and updates!