NEW DREAM POD 9 ONLINE STORE
We've just upgraded Dream Pod 9's Online Store! We've been working on this for a few months and we hope you find the new store easier to use.
The new store offers improved security and reliability over the old store software, but we're more excited about features to make it easier to find specific products and features that reward our customers.
One new feature is Pod Reward Points: With the new online store, you will receive Customer Loyalty Reward Points for items purchased to us on your next orders. As a guideline, you will receive 1 point for every $5 to $10 of an item's value, items under $5 don't receive reward points. An order for a $23 blister would give 2 reward points and an order for a $25 blister would give 3 reward points.
Register Now for Bonus Reward Points! Everyone will need to create new accounts on the online store as the old software was not compatible for transferring the account data. From now until the end of September 2013, we'll be giving everyone that creates a new account 5 bonus reward points instantly that they can use right away on their first order, to lower its cost by $5.00 using the points. Also, once your first order is placed and payment received we'll credit your account with 10 more bonus reward points along with reward points from the items in your first order.
Finding items should be easier with the new layout. Items may have several tabs next to the Description for Specifications, Reviews, and Related Items. We'll be adding Specifications as catalog items are reviewed to provide more information about the size, materials, and other details of our products. We can use this feature to make it clear if an item is resin, metal, or a mix of the two. These details can be used on the Compare feature. The Reviews tab contains user-contributed reviews. A Related Items tab contains links to other products that are similar or complementary to the item you're viewing.
Also, it's easier for us to add additional images to products. We're still adding information to make these new features as usable as possible. More details will get entered as we review each item for sale in the store and add new items.
Gen Con Week Exclusives & Specials (August 11th to 20th)
We'll be away all this week at Gen Con in Indianapolis (August 15th to 18th) and will only be back in the office the following week on August 21st. We know that not everyone can make it to the best 4 days in gaming, so this year we're making available to our online customers for this one week only the GenCon 2013 Exclusive Chieftain IV as well as last year's GenCon 2012 Exclusive Razor Fang Black Mamba. Plus our new Heavy Gear Badlands Rally [Gencon Preview] game for 1 week only, the official release will only be out in October. We also have our Heavy Gear Blitz two player starter kit, starter armies, box sets, and Heavy Gear Arena two player starter kit on special for Gen Con week, even if you can't make it to the convention you can still get the goodies.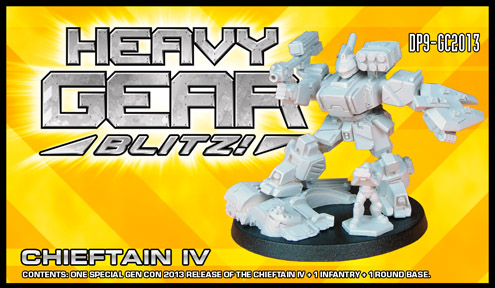 New August releases of the Southern Artemis, Four Stoneheads in Sand, new Confederated Northern City States Decals Pack and new Peace River Decals Pack are also available to order now, and will start shipping once we are back from Gen Con during the last week of the month.