Several years back Phil sculpted some small Fleet Scale Lancer and Wraith Fighters for Jovian Chronicles. They were made for a planned Fleet Scale version of Jovian Chronicles, that was never completed, back around the time we did our Heavy Gear Fleet Scale game. Our thinking at the time was we had some nice looking spaceship miniatures, but the larger size fighter and exo armor minis really looked out of place on the tabletop beside the spaceships. So we though making bases of 3 smaller fighters and exo armors to represent a squad, in a scale closer to that of the spaceships would look a lot cooler. We showed an image back then of the three Fleet Scale Lancer and Wraith Fighters mount on small wire stands and black plastic base, and have been receiving requests from Jovian Chronicles Fans for us to produce these small scale minis for years now.
Last month we located the models that had been stored away and added a small ball socket hole on the underside of each of them. Then we designed a new pose-able 3 pronged pewter flight stand, with small balls at the tips to fit the ball socket holes under the small fighters and with a peg at the bottom that fits our black plastic base. These small fighter 2 squad packs are now available to purchase for the first time. If we see enough sales we may decide to get some small exo armors and additional faction fighters 3D modeled and available in the future.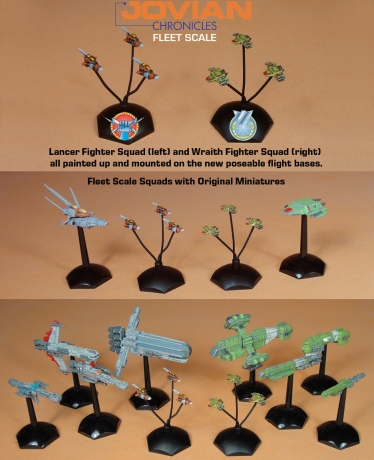 If you interested in a possible Jovian Chronicles Fleet Scale Tabletop Wargame let us know with your support of these products, your comments, and your emails.
Here is a link to the Jovian Chronicles miniatures section of the DP9 Online Store for all who want to checkout the parts and other photos we have on the product pages, or show support with a purchase.
http://store.dp9.com/index.php?route=product%2Fcategory&path=121_114