Heavy Gear Assault second Alpha Wave Announced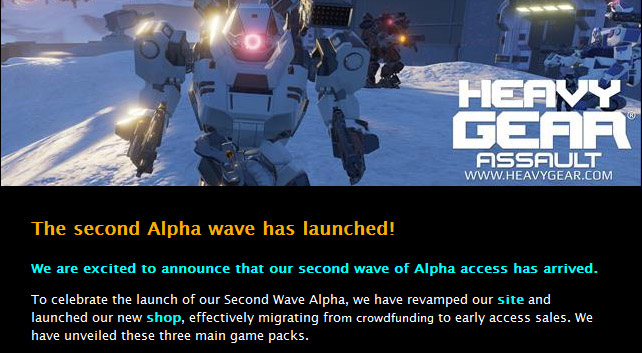 Stompy Bot Productions has just announced a second Alpha Wave, here is their news release.
The second Alpha wave has launched!
We are excited to announce that our second wave of Alpha access has arrived.
To celebrate the launch of our Second Wave Alpha, we have revamped our site and launched our new shop, effectively migrating from crowdfunding to early access sales. We have unveiled these three main game packs.
$39.95 Competitor Package
$59.95 Veteran Package
$99.95 Ace Package
Buy a pack between now and January 31, 2015 to gain access to the Alpha.
Once purchased, you'll never need to spend another dime again to enjoy the full Heavy Gear Assault experience!
Pledge Legacy Upgrade Policy
If it weren't for you, the early backers, we wouldn't be here. As such, you will receive every reward you are entitled to as well as one of the new packages for free.
If you pledged prior to this change over, you will receive everything in your previous pledge package PLUS the contents of the new corresponding package as follows:
Previous Pledge Amount:
Less than $40: $39.95 Competitor Package
$40 – $80 Inclusively: $59.95 Veteran Package
More than $80: $99.95 Ace Package
Example: If you pledged at the $40 Northern Duelist level. You will receive at launch the entire contents of that pledge level PLUS the $59.95 Veteran Package.
BETA ACCESS HOLDERS: If you previously purchased a pledge level which includes Beta access, you will be now be granted Alpha access too. A separate email will go out to you with instructions. If you have not received this email, please contact support@heavygear.com.
Click the link below to visit the Heavy Gear Assault website and Get into the Game:
http://www.heavygear.com/
Stompy Bot Productions has also made a new Alpha game play video and posted it to youtube, here is a link tot he video to check out:
https://www.youtube….h?v=JLwXqVpnTGM